While visiting the Cité du Chocolat, pop in to The Comptoir Porcelana, our self-service café!
Take a mouth-watering break to enjoy an unbeatable dessert, snack or hot chocolate. Or more surprisingly, and perhaps for the first time, sample a savoury chocolate dish.
Going further than traditional recipes that use chocolate to bind sauces, the creations served at Le Comptoir Porcelana subtly blend chocolate or cocoa with meat, fish or vegetables to offer first-time taste sensations. This self-service café is operated in an eco-friendly way. An all-chocolate experience to melt your heart!
Explore the Comptoir Porcelana

virtual tour
The Menu
Starters
with Chinese cabbage, crayfish tails, pineapple, chives, olive oil, grapeseed oil, white balsamic vinegar, coconut milk, passion fruit purée

5.20 €

Guacamole, Beluga lentils, smoked trout, corn chips, vinaigrette with Araguani 72% dark chocolate

5.20 €

Mixed leaves, Lomo Serrano, Mozzarella Di Buffala, sun-dried tomatoes, grated Xocopili 72% dark and Xocopili vinaigrette

5.20 €

Cauliflower, potato, Vitelotte purple potato crisps Ivoire 35% white chocolate

5.20 €
Mains
fillet of halibut, autumn vegetables (sweet potato, broccoli), Dulcey 32% blond chocolate

7.50 €

sautéed duck, Chinese cabbage, onions, mango, tomato, turmeric, rum, three rice mix, Itakuja 55% dark chocolate

7.50 €

beef, carrots, onions, Bahibé 46% milk chocolate

7.50 €

mushrooms, parmesan, broccoli, Araguani 72% dark chocolate

7.50 €
Desserts
Coconut dome, hazelnut dacquoise biscuit, Azélia 35% milk chocolate ganache

5.00 €

hazelnut dacquoise biscuit, Dulcey 32% blond chocolate

5.00 €

Chocolate shell with cinnamon-scented apple filling Opalys 33% white chocolate ganache

5.00 €
Drinks
Superior Earl Grey with bergamot notes

2.30 €

Sencha green tea flavoured with red fruits

2.30 €

lemon verbena and orange blossom

2.30 €

In the Shadow of the Oasis

green tea flavoured with mint

2.30 €

green tea from the Chinese province of Yunnan

2.30 €

2.50 €

Still Mineral Water (Évian)

1.80 €

Sparkling Mineral Water (Vals) 50 cl

1.80 €

2.30 €

Organic fruit juice 25 cl

Pear, apple, apple & quince, apple & raspberry, apple & strawberry, apple & blackcurrant, apricot

3.50 €

4.50 €

4.00 €

AOC Crozes-Hermitage white 2015

Wine by Cave de Tain - 37,5 cl bottle

10.50 €

AOC Crozes-Hermitage red 2015

Wine by Cave de Tain - 37,5 cl bottle

10.50 €

AOC Saint-Joseph red 2015

Wine by Cave de Tain - 37,5 cl bottle

13.50 €

1.70 €
The menus
Zoco & Lili menu (for children)

Cassolette Forastero + Dessert Forastero + Gift

9.90 €

Criollo starter + Criollo Casserole + Criollo Dessert

16.50 €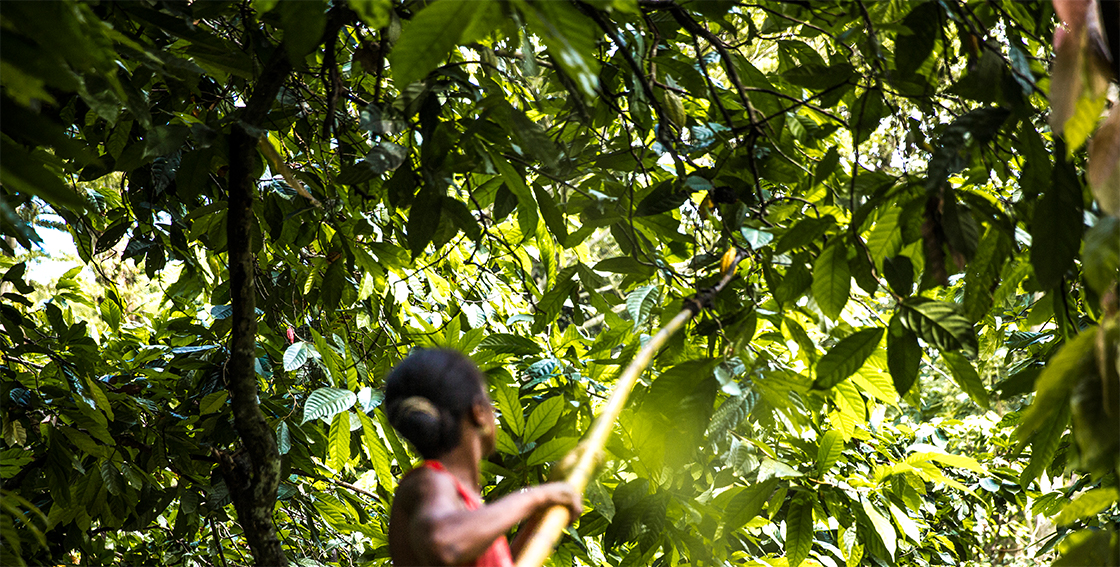 The Comptoir Porcelana is an eco-friendly café:
At Valrhona, we are convinced that by involving all our stakeholders we will succeed in meeting the challenges of tomorrow's world. For years, we have been cultivating long-term relationships with our cocoa partners. Our responsibility programme involves our employees, suppliers and customers. We aim to halve our ecological footprint by 2025.
This is why the Comptoir Porcelana has opted, as far as possible, to use tableware that is either naturally derived, compostable, biodegradable, or else recyclable.
This disposable tableware reduces our consumption of cleaning water and will be upcycled, primarily via a bio-waste collection scheme. To keep our chocolate cassolettes (shepherd's pies) hot during service hours, they are served in ceramic bowls made locally by Drôme company Revol. Our trays are made from paper fibres and sugar-cane resin.
We kindly ask our customers to help sort waste in the area provided.
Our cutlery is made from CPLA (corn and potato starches).
Our clear cups for cold drinks are made from PLA (derived from starch fermentation).
Our salads are served in cane-pulp salad bowls.
Our desserts are served either in wooden moulds with suitable baking paper or in recyclable plastic recipients.