While visiting the Cité du Chocolat, pop in to The Comptoir Porcelana, our self-service café!
Take a mouth-watering break to enjoy an unbeatable dessert, snack or hot chocolate. Or more surprisingly, and perhaps for the first time, sample a savoury chocolate dish.
Going further than traditional recipes that use chocolate to bind sauces, the creations served at Le Comptoir Porcelana subtly blend chocolate or cocoa with meat, fish or vegetables to offer first-time taste sensations. This self-service café is operated in an eco-friendly way. An all-chocolate experience to melt your heart!
Explore the Comptoir Porcelana

virtual tour
The Menu
BAGEL'S on request by ✆
Viennese bread with cocoa nibs, chocolate mayonnaise, mesclun, marinated raw sea bream fillet (depending on availability), caraway marinated fennel and carrots

6.50 €

Viennese bread with cocoa nibs,homemade green pesto, mesclun, sundried tomatoes, Buffala mozzarella, eggplant, parmesan

6.50 €

Viennese bread with cocoa and cocoa nibs,homemade candied tomato pesto, marinated chicken with cocoa oil, candied peppers, balsamic cream

6.50 €
Salad
Mesclun, chicken marinated in cocoa nibs, candied peppers, with homemade candied tomatoes pesto, cocoa nib croquets, balsamic cream

6.50 €

Conchiglie paste, sundried tomatoes, mesclun, buffala mozzarella,homemade green pesto, eggplant, parmesan, pine nuts, grated Xocopili chocolate

6.50 €

Mesclun, red quinoa, split peas, fennel and carrots in a caraway marinade, raw marinated sea bream fillet (depending on availability), cocoa nibs croquets

6.50 €
Casseroles
The Drômoise casserole dish

Zucchini, Dauphiné ravioli, chocolate ravioli from Mère Maury, cheese gratin, sundried tomatoes

7.50 €

Seared salmon, Chinese noodles, fennel, topped with its Yuzu Inspiration sauce

7.50 €

Chicken marinated in olive oil and xocopili (dark chocolate 72%, Espelette pepper, curry and paprika), chickpeas, carrots, zucchini, bulgur

7.50 €
Menu
little salad + 1 casserole dish of your choice + 1 dessert of your choice

17.00 €

1 casserole dish of your choice + 1 dessert + 1 gift

9.90 €
Desserts
Caraïbe dark chocolate mousse 66%, Namelaka Vanilla and Opalys white chocolate 33%, hazelnut dacquoise

5.00 €

seasonal fruits, streuzel, whipped ganache vanilla and Opalys 33% white chocolate

5.00 €

Apricot dome, hazelnut dacquoise, whipped ganache Dulcey 35% blond chocolate

5.00 €
Drinks
13.50 €

Still Mineral Water (Évian)

1.80 €

Sparkling Mineral Water (Vals) 33 cl

1.80 €

Organic fruit juice 25 cl

Pear, apple, apple & raspberry, apple & strawberry, apple & blackcurrant, apricot

3.50 €

1.70 €

2.30 €

2.50 €

4.00 €

4.30 €

White wine croze-hermitage, Red wine croze-hermitage

10.50 €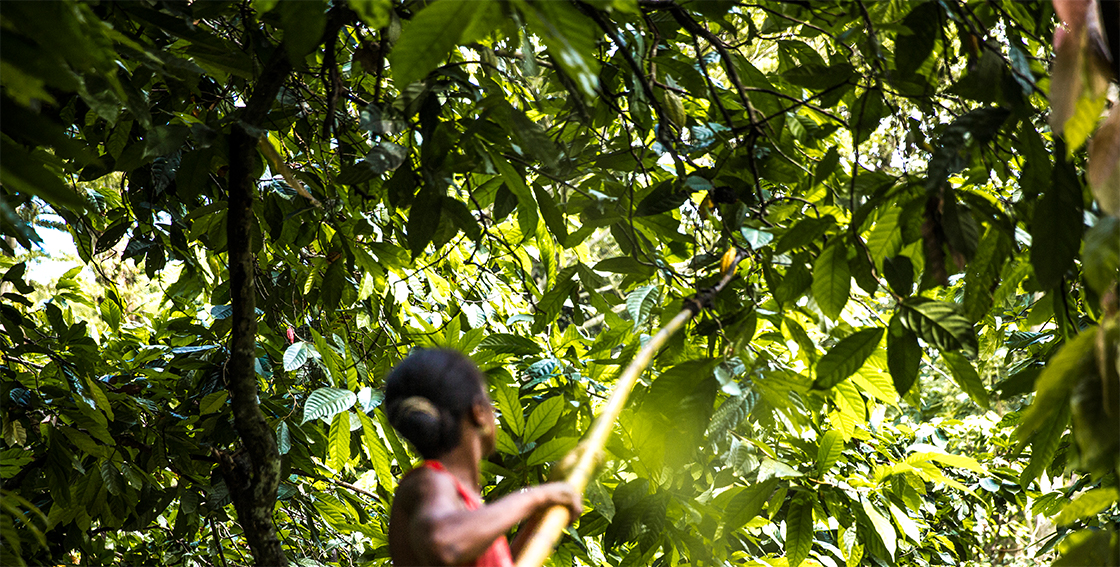 The Comptoir Porcelana is an eco-friendly café:
At Valrhona, we are convinced that by involving all our stakeholders we will succeed in meeting the challenges of tomorrow's world. For years, we have been cultivating long-term relationships with our cocoa partners. Our responsibility programme involves our employees, suppliers and customers. We aim to halve our ecological footprint by 2025.
This is why the Comptoir Porcelana has opted, as far as possible, to use tableware that is either naturally derived, compostable, biodegradable, or else recyclable.
This disposable tableware reduces our consumption of cleaning water and will be upcycled, primarily via a bio-waste collection scheme. To keep our chocolate cassolettes (shepherd's pies) hot during service hours, they are served in ceramic bowls made locally by Drôme company Revol. Our trays are made from paper fibres and sugar-cane resin.
We kindly ask our customers to help sort waste in the area provided.
Our cutlery is made from CPLA (corn and potato starches).
Our clear cups for cold drinks are made from PLA (derived from starch fermentation).
Our salads are served in cane-pulp salad bowls.
Our desserts are served either in wooden moulds with suitable baking paper or in recyclable plastic recipients.