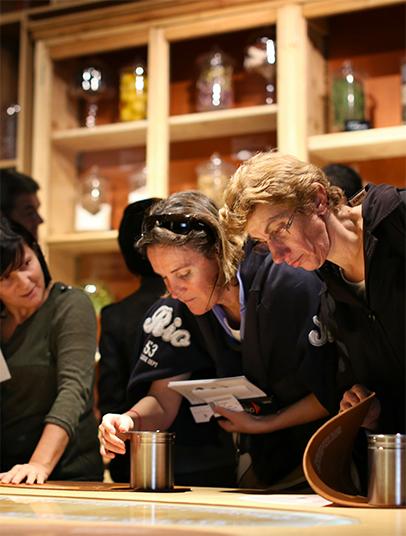 Share a unique experience!
Whether you are a tourism professional or a member of a non-profit, school, leisure centre, company or works' council, the Cité du Chocolat is a unique destination for groups to enjoy a mouth-watering, bond-building, standout experience.
Five good reasons to (re)discover the Cité du Chocolat
1. A fun and educational tour trail around chocolate, from harvesting cocoa to making chocolate and its transformation by food artisans.
2. A unique indulgent experience that stimulates all five senses: an opportunity to taste and appreciate the flavours, shapes, colours and textures of 15 to 20 chocolates.
3. Workshops and activities right along the trail, several times a day, to gain a deeper understanding of a chocolate-related skill or technique.
4. An all-chocolate restaurant to relish a unique culinary experience of the savoury kind.
5. A recreational area devoted to children to further enhance the specific experience they are offered during their tour.
Below, view the offers we have designed especially for you.